Data is essential across all the business firms these days. Processing and digitizing the data, either manually or through document automation process facilitates easy access to information. The information provides a platform for enhancing the operational efficiency of your business. In this competitive era, organizations are not supposed to spend time on maintaining their data. The scarcity of manpower is another important challenge faced by the organizations to process data. Outsourcing is the best possible solution to overcome all these issues. Outsource your data entry requirements to a data entry service provider to manage your data efficiently. An organization can enjoy several benefits from offshore outsourcing services. This article portrays some major benefits of outsourcing: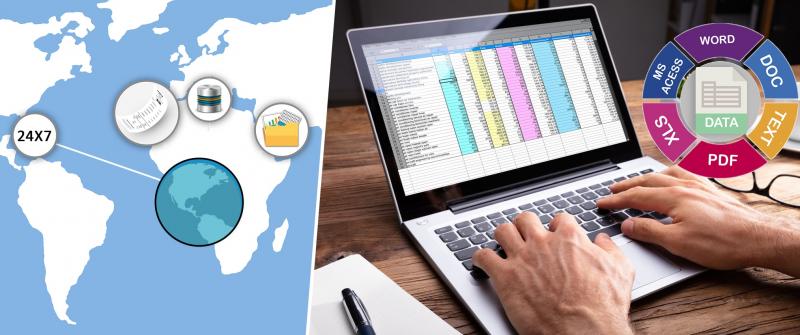 Highly Accurate and Quality Service
One of the most important benefits of data entry outsourcing is the high-quality service provided by data entry service providers. Offshore outsourcing services providers employ highly skilled and specialized professionals to accomplish data management projects efficiently. Outsourcing companies always try to deliver the projects accurately within a stringent time period. Offshore outsourcing companies offer double check to reduce the maximum errors and to provide high-quality services.
Lower Operational Costs
Offshore outsourcing helps companies to reduce their operational costs up to 60% of total costs. Through outsourcing, organizations can save expenditure on labor, infrastructure, and technology. Outsourcing enables companies to save investment on purchasing, maintaining and updating technologies and infrastructure. Labor is another important cost driver of an organization. Outsourcing also helps to avoid the expenses of hiring and training an employee for data management process.
Access to Latest Technology
In this competitive world, outsourcing companies use most modern technologies to provide highly cost-effective services to their clients. Use of latest technology allows companies to manage your data more efficiently. Less accuracy is one of the major issues that companies confront with data management projects. The innovation of new technologies facilitates companies to provide error free and most accurate data entry services.
Focus on Core Competencies
Outsourcing helps the companies to gain a competitive edge in the international marketplace. Outsourcing provides an opportunity to concentrate more on the core competencies of your business. If you are outsourcing data entry services to a data entry service provider, you can free up your employees and utilize them to implement new projects. Outsourcing also makes your customers more happier through delivering quality services.
Operational Efficiency
Outsourcing companies provide effective and timely information required for your business. The effective use of information increases the operational efficiency of your business. Enhanced productivity is the most important result of outsourcing data entry services. Information on customer behavior, market conditions and competitors play significant roles in the success of a business. Therefore, outsourcing data entry services enable companies to increase productivity and sale of your products.
At India Data Entry Help, we offer cost-effective and highly accurate data entry services to the clients all over the world. We employ skilled and specialized professionals to deliver timely and error-free data management projects. Outsource your data entry services to India Data Entry Help to build a strong business partnership. We also offer free trials to understand our quality of work, dedication to the customers and turnaround time.