Bulk data entry can be quite a challenging job especially in e-commerce companies where the data needs to be accurate, complete and attractive. Combining these elements and completing the job on-time can be an extremely demanding process for the people in charge of the product catalogs. Such processes are typically outsourced to competent partners that have ample resources experienced in catalog data entry.
One of the ways in which product catalogs are maintained in many e-commerce organizations is through Bulk web data entry wherein the outsourcing partners gain access to a web-based product entry form to input the details. Since e-commerce websites deal with tens of thousands of products on a daily basis, bulk data entry becomes a continuous process which requires significant supervision to conform to the standards.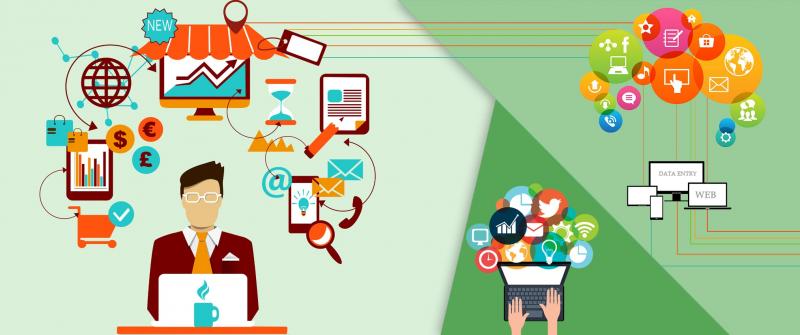 Here are some effective solutions for e-commerce data entry:
Web Forms
Web forms are used for offshore data entry, especially when there are bulk eCommerce product data entry requirements. The outsourcing partner either creates a web form for organized entry of product catalog which is easier to manage. The various aspects including features, dimensions, description etc are stored separately such that data can be easily accessed and searched based on the most important criteria. In some cases, the organization gives access to their web forms to specific users of the outsourcing partner to input the data. This way, data entry is directly verified and uploaded into the e-commerce website. The product catalog is completed faster and more efficiently using web forms.
Offline Data Entry
Where online data entry is not feasible, organizations opt for offline data entry wherein the Outsourcing partner will use tools such as Microsoft Excel to input information in an organized manner. This is later batch updated into the e-commerce server after necessary verifications and validations are done. Many e-commerce companies seek India data entry help for offline catalog creation as they can enjoy cheaper services without compromising on the quality of data. Since the English speaking population is high in India, they can offer quality data entry services at affordable rates.
Outsourcing
In the recent times, many organizations are opting for Outsourcing Bulk online data entry services due to the multiple conveniences they offer. Outsourcing brings with it a host of benefits such as cost-efficiency, expertise, quicker time to market, better productivity, better focus on core activities etc. When it comes to bulk data entry, the outsourcing partners will have the right technologies that ensure quality information with minimal mistakes.
Web data entry is an efficient solution for most of the e-commerce companies. With web data entry, data entry need not be done twice. Data can be directly inputted into the e-commerce server after it is verified and validated by the content managers. Images for the product catalog can also be directly uploaded using the web forms. Large e-commerce vendors make use of big data and related technologies to leverage the bulk information. Such information mined, generated and collected are efficiently used for various analytics purposes to improve business strategies and decisions.