Businesses Outsource XML data conversion services to competent outsourcing partners to leverage from XML data format. Here are some interesting benefits offered by outsourcing XML conversion services:The Extensible Markup Language or XML is the most popular formats used by businesses to store information on the web. XML can be easily parsed by all browsers and offers a better schema to store information. It is scalable and can be easily converted into any other language. Since XML uses tags and hierarchies to store data, it needs some expertise to convert information from other formats into XML.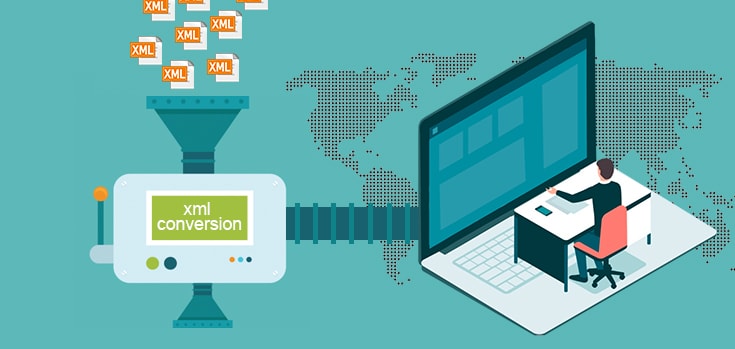 Leverage from Technology
Any data conversion requires technology intervention to make it more efficient and complete it faster. When it comes to bulk data conversions, which most businesses require, outsourcing XML data processing services is a better choice. Choosing the right technology is a challenge in itself. Most of the legacy software tools are expensive which adds on to the capital expenses of the business. If the conversion is a one-time or rare affair, investing on technology and recruiting an in-house team for XML conversion is not a feasible solution. Instead, outsourcing helps the business leverage from technology by mere subscription for the services accessed.
Experienced Resources
When more experienced resources work on XML conversions, they ensure better conversion quality. When converting data from various formats, consistency can be a huge challenge. But with experienced resources, the outsourcing partners can assure consistent data every time. Bulk data conversions also work best with experienced resources. They will ensure timely availability of data without compromising on data quality.
Timely Availability of Information
Most of the businesses these days are data-centric. They depend heavily on information for taking critical business decisions. Seamless data flow ensures better process efficiency. Timely availability of information is hence very essential for businesses to progress. An accomplished XML data conversion service provider will be able to offer timely delivery of quality data without fail. This will help your business to take timely management decisions and progress.
Wide range of Conversion possibilities
The business will have to deal with different formats of data. XML conversions involve conversion to XML and from it to other formats. Both require different technologies and expertise. The outsourcing firm will have all such technologies and expertise to convert data from different formats into popular formats. Otherwise the business will have to seek external help for every different requirement of data conversion. A competent and accomplished XML conversion service provider will offer a wide range of conversion possibilities.
Scalability
Businesses go through peak seasons and weak seasons. The XML data entry and conversion services provider should be scalable so as to provide optimal service capability and on-time delivery of converted data during peak and weak seasons without adding on to the overheads. The outsourcing partners will have a huge resource base they use for different projects. They can allocate resources to different projects based on requirement to make sure that all deadlines are met with.
Outsourcing offers a cost-effective solution to XML data conversions. Businesses can leverage from the benefits offered by outsourcing service providers to smoothly progress.