The era of automation and manual data entry services is causing major technological disruption in the industry's diverse domains. These solutions are powered by Artificial Intelligence (AI) and Machine Learning (ML) and are expected to harvest trillions of dollars in business value. This broad technological shift has been a major catalyst in aiding manual data entry.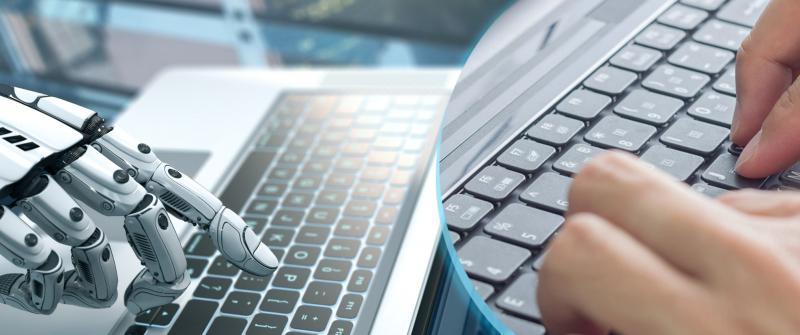 The implementation of such intelligent and cognitive aspects in outsourcing data entry services eliminates the traditional data entry hassles. Hence processes are transformed entirely with generating results with enhanced accuracy, efficiency, and accelerated turnaround times with substantial cost-benefits.
Although it doesn't mean that outsourcing company's manual data entry manpower will be dismissed. This is because the enhanced process efficiency gained is only possible with a human intervention that augments their skill sets in line with the technology. Hence the best BPO company always leverages this joint venture, no matter what.
So, it is vital for an offshore outsourcing BPO company to embrace the prowess of both automation and manual data entry across diverse systems and databases, for efficiently catering complex and simple tasks to the global clientele. It helps in improving customer experience and satisfaction and for making the right business-critical decisions, affordably.
Importance of Manual Data Entry Services
Modern demands and customization in outsourcing data entry services models are better tackled with the expertise of human/manual data entry personnel in a BPO company, besides automation. As a result, clients experience:
Enhanced cost-efficiency as there is no need for investing substantial capital in additional or specialized technology/software.
Enhanced control is assured with manual data entry as the process can cater to specifics across entry fields or databases for business clients to their unique requirements.
Enhanced accuracy is always achieved with human proficiency due to their stringent data validation skill set. Automated procedures will hamper accuracy if data is of poor quality causing biased decision makings which results in data redundancy.
Enhanced support based on insight is offered to global clientele during their business transitional periods. Compared to automated systems, human counterparts can perform better in offering consultation capacities to devise the best solutions to clients.
Superior data oversight of human counterparts helps in categorizing voluminous data based on processing requirements, which cannot be done by automated systems.
The need for Combined Expertise of Manual Data Entry and Automation
Although the best BPO company or data entry outsourcing company implements automated systems using AI and ML, it can only augment their human counterparts' capabilities for greatly reducing their efforts which also enhances their workflows. Manual data entry personnel are required to:
Develop, support, and maintain AI databases of varying types. The specific data criteria and input labels can only be correctly made by them for the functioning of automated systems.
Monitor the CRM and ERP systems with additional support in data quality control and checks assuring enhanced accuracy levels during and after the processes.
Define, specify, and monitor data criteria for varying industry types as requirements will be different for all sectors. As a result, automated systems can perform operations using these relevant, industry-specific labels and data parameters.
Control and perform the final quality check for ensuring the results generated by automated AI systems are accurate, for delivering the best outcomes to clients.
Make the transition to a centralized data governance system can only be done by manual data entry services personnel in a BPO company for laying the foundations for data identifier standards and cross-referencing for constituent databases.
Determine the correct, and relevant information for image annotation for training AI models (Computer Vision-based) on various criteria as well as help the system function efficiently.
Bridge the gap between automated and legacy systems with their support and operational assistance for business clients who are using old or outdated systems.
Acquire offline data to perform outsourcing data entry services using OCR and other technologies so that they can update archived data.
Even if the best BPO company possesses high-end automation technologies, they will need the combined expertise of manual data entry personnel to achieve the desired outcomes of clients. They are the ones who are responsible for molding AI-enabled automated systems in a data entry outsourcing company with their aggressive and advanced technical expertise. This way, global clientele can catch up with the rapid pace of this technological era by leveraging disruptive expertise and towards achieving a competitive edge.